OMERO.web deployment
OMERO.web is the web application component of the OMERO platform which allows for the management, visualization (in a fully multi-dimensional image viewer) and annotation of images from a web browser. It also includes OMERO.webadmin for managing users and groups.
OMERO.web is an integral part of the OMERO platform and can be deployed with:
If you need help configuring your firewall rules, see the Server security and firewalls page.
Logging in to OMERO.web
Once you have deployed and started the server, you can use your browser to access OMERO.webadmin or the OMERO.webclient:
http://your_host/omero OR, for development server: http://localhost:4080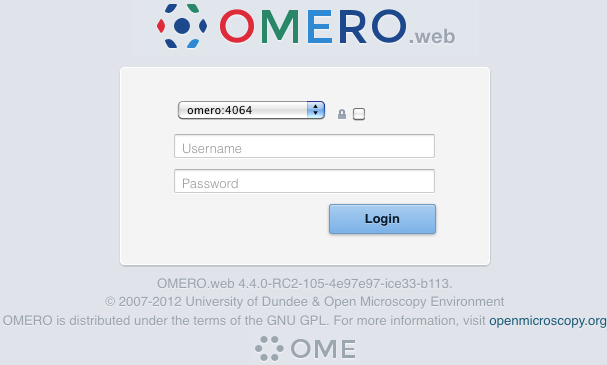 Note
This starts the server in the foreground. It is your responsibility to place it in the background, if required, and manage its shutdown.
OMERO.web Maintenance (Windows)
Customizing your OMERO.web installation
All configuration options can be found on various sections of Web developers documentation. For the full list, refer to Web properties or:
C:\omero_dist>bin\omero web -h

The most popular configuration options include: